Dr Kirun Raj, one of our volunteers from last years project relives the memory of our first ever dental camp in Nepal (2016). Whilst in the midst of preparation for 2017 project in Nepal, here is what we did last autumn.
Days 1 and 2: Heathrow to Kathmandu
The first time we all met was at Heathrow Airport, where we had to quickly reorganise all of our luggage in a bid to get all our equipment across to the camp. Etihad Airways were kind enough to give us all an extra 15kg luggage allowance per person. However, we quickly learnt that dental equipment, especially toothpaste, is VERY heavy, and the extra 90kg between us still wasn't enough, despite us bringing only the bare minimum in personal essentials.
A six-hour wait at Abu Dhabi International Airport meant the first two days merged into one. As a newly qualified dentist, being surrounded by such talented professionals was a fantastic learning opportunity for me. For example, Shirin allowed me to pick her brains and gave me a short tutorial on occlusion whilst we waited for the connecting flight.
Upon arrival in Kathmandu, all luggage got through customs without any issues – phew! We were greeted by some of Deepak's family with marigold garlands, then checked in at the Moonlight Hotel where comfortable beds and steamy hot showers awaited us (a well-planned false sense of se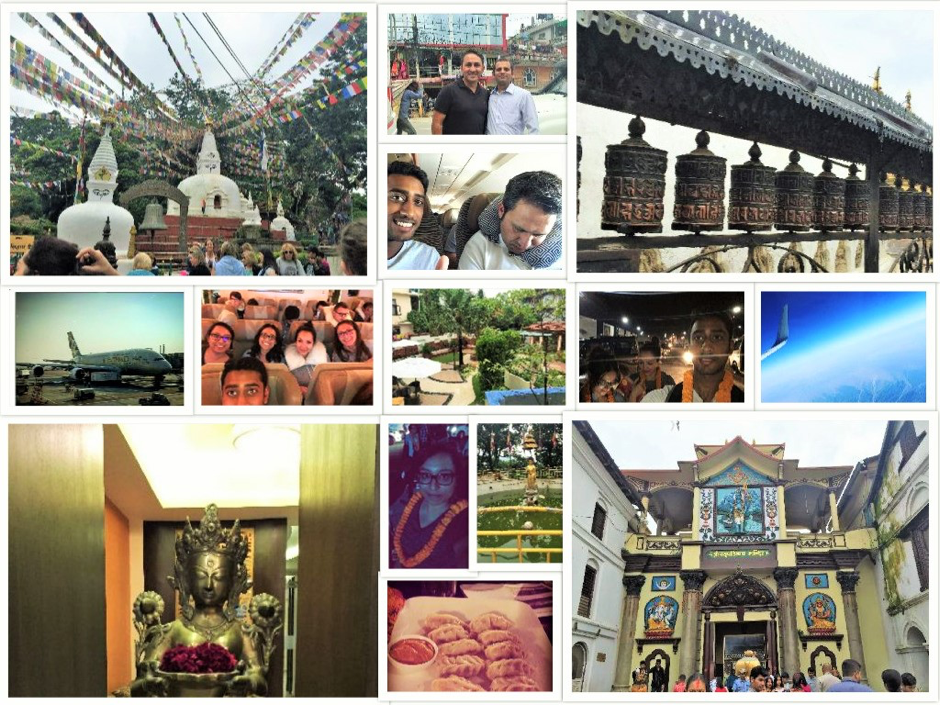 curity…).
Day 3: En route to Dhading
The next morning we did some sightseeing in Kathmandu, guided by Ishwar. We visited the Pashupathinath Mandir, the oldest temple in Kathmandu, located along the bank of the Bagmati River, and also  Swayambhunath, a sacred Buddhist pilgrimage site which was particularly spectacular and one of the highlights of the trip for me.
We got back to the hotel for a quick lunch (where two of our dentists fell asleep at the table) before departing on a long bus journey to the Dhading District, where the camp was to be located. We were joined by Neeraj, an orthodontist based in Kathmandu, and Nisha and Prabha, his hygienist and receptionist. Tshristi, a local dentist, Sushir and Manis – recently qualified dentists with extensive knowledge in dental aid camps in Nepal – and Karun, a final-year dental student, made up the rest of the new-joiners.
The stop at 'services' was an eye-opener into the sorts of facilities we would be using. However, the stunning scenery more than made up for this. Deepak decided it was a good time for the team to get to know each other in a speed-dating format of sorts; the UK team must have come across as really rude as we were all exhausted by this point! (We were later forgiven!). Six hours later we finally reached our hotel.
Day 4: Hiking to Shree Mahendra Secondary School
In the morning we were told that the roads leading up to the school had been badly damaged due to the recent weather and vehicles could not make it up the hill without getting stuck. A tractor was hired to carry the equipment up to the school and there was just enough room for some of the Nepal team. The UK team, accompanied by Neeraj, Tshristi and Deepak's parents, started a three-hour hike to reach our destination!
On arriving at the Shree Mahendra Secondary School we were met by confused onlookers; the locals couldn't comprehend why the ascent took us three hours when it normally takes them 30 minutes! We had lunch at the convenience store, watched some local boys play Carrom (an Asian board game) then started setting up the clinics in three classrooms that we had been allocated.
Oral hygiene instruction was delivered to the waiting crowd by Deepak and Durga, who are both fluent in Nepali. Finally, the doors were open and patients were seen in a diagnosis clinic and then made their way to the adjacent rooms for periodontal, restorative and surgical treatment as required. The reality of the situation was that most patients needed restorative and surgical care resulting in a larger backlog for these designated areas.
Knowing that two trips a day to and from the hotel to the camp and vice versa was not feasible, supplies were brought in and a camp was set up in the school grounds with half of us sleeping in the school library and half in tents beneath the stars.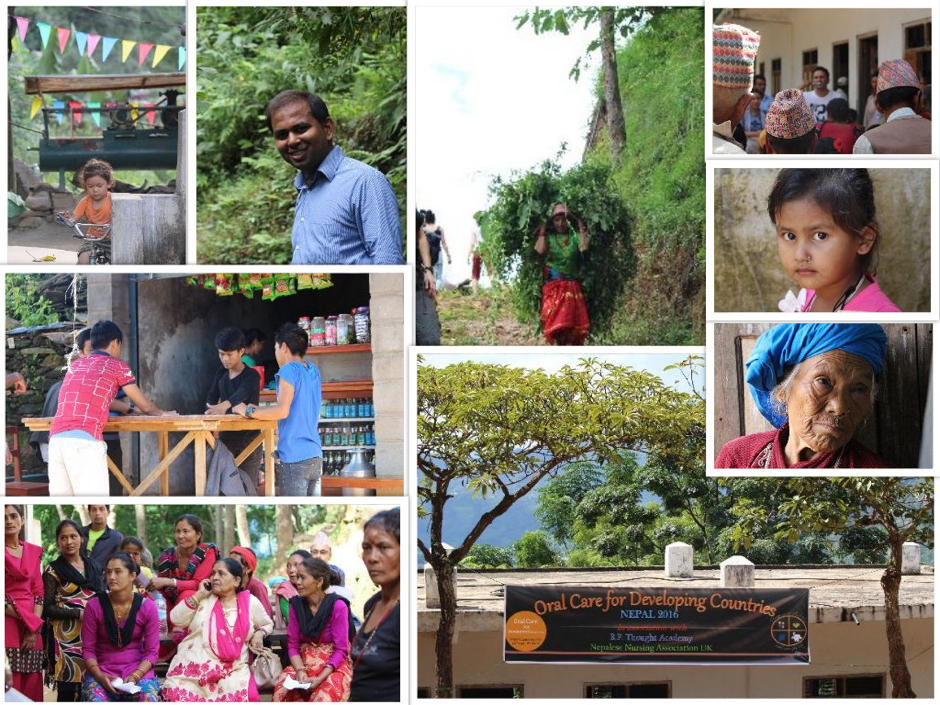 Day 5: Start of the dental camp
A team of professional hiking guides were bought into the camp to provide catering services. For the duration of the camp they would be making us breakfast, lunch and dinner – these were the best meals I experienced in Nepal!
Having started much later than anticipated on the first day the second day felt extremely busy as we needed to pick up the pace.
I was placed in the restorative clinic that day alongside Dr Chantelle Gomes and was surprised to see how compliant the patients were with their first experiences of dental treatment. As we all got used to the bathroom situation we noted a "guardian" of the facilities who was approximately 5 inches in diameter, we named her Charlotte and figured if she was on the web outside at least her whereabouts were known. There was also an alleged "tarantula" sighting inside the bathroom itself.
By the evening we had arranged some suitable shower arrangements- a local family had kindly allowed to us use their facilities, they had also let four of our team stay at their home. Whilst waiting for our shower we would sit in the courtyard beneath the night sky (where we saw the International Space Station in orbit!) and speak with the children of the village who were quite taken with my camera and smartphone. Discussions with them ranged from aspirations, London and Manchester United, all translated by Navraj an 11 year old boy who spoke English to an outstanding level.
We made our way back to camp to an evening of entertainment kindly arranged by Neeraj to reward us for our hard work, we were treated to music sung by some of the local teens with a campfire under the stars.
Day 6 – Dental Camp continues…
We were joined in the camp by Amrit, Apil, and Kaushik final year dental students who were to observe the clinics alongside Sushir, Manis and Karun.
It was these students who saw Deepaks Facebook postings and alerted their tutor Tshristi — this was invaluable as we required a Nepali dentist on board to help with the admin side of things in Nepal whilst we were in the UK.
They were inquisitive and helpful and not afraid of the hard work. Without them translating , what we achieved would not have been impossible, the aftercare advice and the preventative message are just as important, if not more so than the active treatment.
It was a pleasure to have the students on board who were so engaged with what we were doing and it reminded me of how much I have learnt simply by observing and asking questions. The Nepali team were also an excellent source of local knowledge and taught us how their own protocols differ from ours in the UK.
For example, no extraction should be undertaken without a prior blood pressure check in those at risk of low blood pressure which is a common occurrence in Nepal. Eyebrows were raised at our lack of iodine use prior to extractions – another routine procedure in Nepal.
Having spent time in restoratives I was now placed in the Oral surgery clinic run by Dr Dhruv Shah who has previously worked in the hospital setting. The kindness shown by colleagues and sponsors meant we were never without specific instruments and I actually felt rather spoilt for choice. I noted that the patients seemed to require less local anaesthetic (we were using one cartridge per tooth or an inferior alveolar block) than they generally do in the UK where I find many patients requiring a "top up".
We were making progress with the treatments as the extra manpower in the form of the students and also the arrival of two of Deepak's cousins who helped with duties such as cross infection, registering patients and restocking the clinics -freeing up the clinicians to enable them to treat patients.
School visits started on this day, with Deepak and Neeraj taking separate classes and teaching the children about the importance of good dietary habits and oral hygiene – messages which will no doubt be passed onto their families.